Signature SUB 2: The most powerful sub in the world!
Vibration-Canceling Design Architecture (VCDA): Physics Trumps Mechanics with a little help from Paradigm!

"An absolute beast … phenomenal … certainly the peak of my show,
maybe even the whole year … WOW!"
– Adam Rayner, Home Cinema Choice, Bristol Hi Fi Show
---
THE FAR-OUT STUFF: On SUB 2 (and SUB 1), six identical, perfectly balanced state-of-the-art drivers are radially aligned (two on each side) inside the cabinet. As opposing forces of equal magnitude, the powerful vibration-reaction forces (see arrows in image, at top) cancel each other out. Barely a ripple disturbs the contents of the glass placed on top of the cabinet even when the sub is playing at FULL-ON output (see video demonstration, below)!

(see SUB 2 in action, click on the image above)
Our VCDA is only part of the story! There's still no replacement for displacement. In a small, compact form factor six 10" drivers in SUB 2 move more air than a pair of 15" woofers. Then there's the cutting edge driver design …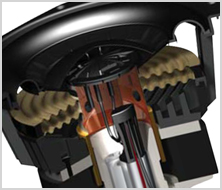 Low, loud, fast and tight response from the mineral filled poly cones, unveiling layer after layer of low-frequency detail.
Non-limiting Corrugated TPE Surrounds! Ten times more effective than standard thermoplastic elastomer, not a hint of distortion exists, even at full 2" excursion.
3-inch, 10-layer aluminum voice coils to support such mad excursion.
FEA-Optimized magnet assemblies with balanced field geometry … transient and phase response are out of this world!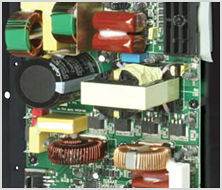 … and a "Kilomax" amp platform
Connected to a 240-volt line, it delivers a monster 4,500 watts of RMS Continuous power and a Frankenstein 9,000 watts Dynamic Peak power. Power Factor Correction shapes the line current so it's sinusoidal and continuous in time allowing power draw to the max with far less noise on the line!
Talk about bringing your movies and music to life.
For more detailed information on all the far-out SUB 2 stuff, click here to download the Data Sheet.