Technology & Design: Quiet Enclosures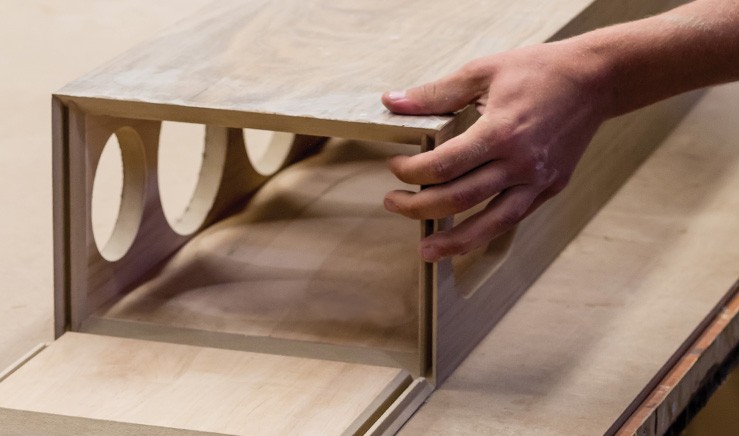 Paradigm designs, engineers and constructs loudspeaker enclosures in their 225,000 sf Toronto factory. There, state-of-the-art computer-controlled cutting and assembling machines complement the work of dozens of craftspeople and audio engineers who plan and specify enclosure designs for peak performance characteristics. Furniture-grade finishing shops, featuring auto-body-finish sprayers and hand-buffing studios, complete the lengthy building process.
But that's just the short story. Paradigm speaker enclosures are unique to their lines, and serve an important purpose in their contribution to speaker conception, performance and success.
They are constructed of rigid, acoustically inert high-density hardboard. They are designed with an interior bracing system that helps isolate driver components, supports the weight and stiffness of the enclosure, and eliminates performance-robbing resonances and vibrations, preventing "ballooning" effects. Specially-made acoustical damping material fills internal gaps and eliminates standing waves.
Try the Knuckle Test: Rap on the enclosure like you're knocking hard on a door. You'll here a "dead" thunk, nothing more. That's a rigid enclosure, perfect for allowing the speaker to deliver only the audio you want to hear.
If the speaker features a port, we've specially designed it to be unobtrusive and efficient. Our high-velocity, low-noise ports allow maximum bass response with a minimum of turbulence and distortion.
On the outside, we design low-diffraction grilles to minimize interference from enclosure edges.
Paradigm is proud to present our newest, most sophisticated enclosure designs in the striking new Persona Series. It looks like nothing Paradigm has ever manufactured before.
Its dramatic forward motion and sleek side curvature not only adds a touch of art to this new flagship, but it provides additional structural integrity, reinforcing Persona's superior performance.
Proudly Crafted in Canada, Paradigm enclosures support reference-quality performances.