Technology & Design: Design Components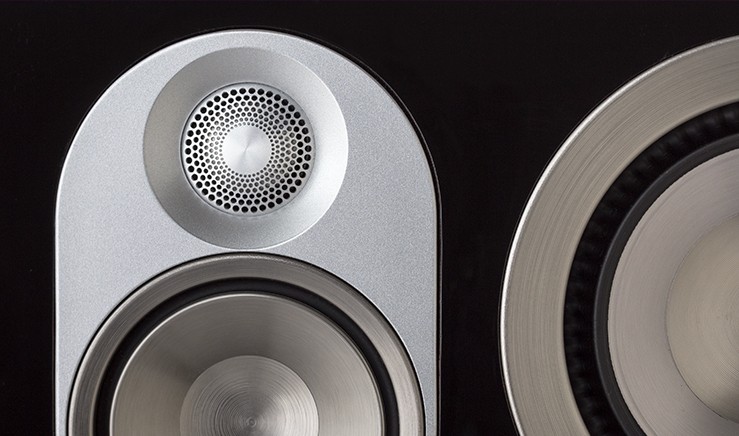 High-Frequency Drivers
High-frequency drive units provide outstanding extended frequency response while proprietary WaveGuide™ faceplates and sound-grilles ensure exceptionally uniform high-frequency response throughout a wide listening window. High-temperature voice coils, aluminum formers, ferro-fluid cooling and powerful oversized magnets ensure high thermal capacity and power handling, and permit the use of lower crossover points for superior off-axis response, lower distortion and longer service life.
Bass/Midrange Drivers
Bass/midrange drive units deliver remarkably coloration-free response. High-pressure die-cast aluminum or injection-molded chassis eliminate ringing and flexing, and function as heatsinks. Advanced cone materials ensure smooth, uniform response. High-hysteresis butyl suspensions eliminate "edge-hole" distortion. High-temperature, multi-layer voice coils and high-quality formers ensure sonic accuracy and improve long-term reliability. Focused-field magnet assemblies ensure low distortion and consistent frequency response, even at high output levels.
Crossover Networks
Multi-element frequency- and phase-coherent crossover networks are purpose-designed for each model. High-power close-tolerance components are hand-selected for greater accuracy. Some models can be bi-wired or bi-amplified.
Enclosures
Paradigm speaker enclosures use acoustically inert high-density or medium density hardboard and strategically located radial braces as needed to limit unwanted resonances, increase enclosure stiffness and prevent "ballooning" effects. Acoustic damping material eliminates internal standing waves. Low-diffraction grilles minimize interference from enclosure edges. High-velocity low-noise ports allow maximum bass efficiency with minimum turbulence distortion.
Subwoofer Amplifiers
Patented, high-power, high-current subwoofer amplifiers, including leading-edge digital designs boasting superior efficiency, ensure full power delivery at all times. Precision-engineered components and dual-sided, multi-layered military-spec (FR4-rated) glass-epoxy circuit boards with plated through-holes ensure superior performance and reliability.