Technology & Design: Amplifiers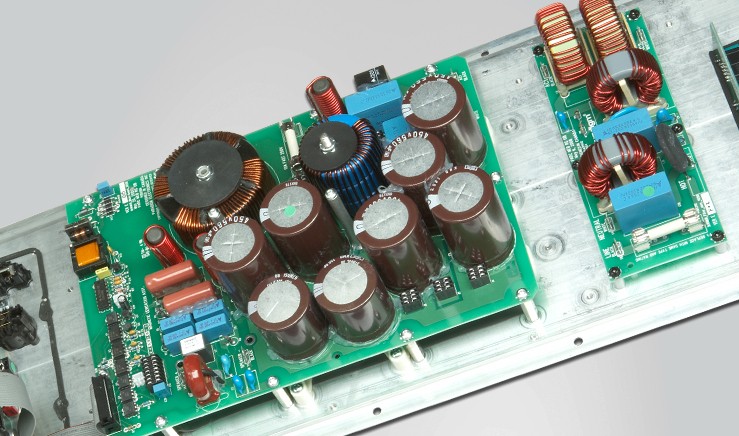 If you choose powered loudspeakers, you're choosing on-board amplifiers. And it's good to know that Paradigm amplifiers are the very cutting edge of amp tech, providing the cleanest, most consistent, and efficient, power possible. After all, power is what brings your audio dreams to life.
Paradigm amplifiers are engineered to suit the needs and specifications of each individual powered loudspeaker. They feature exclusive high-end materials and proprietary processing software.
Exclusive technologies include:
Compact high-speed switching power supplies, served by massive, innovative heatsinks, deliver smooth high power with more efficient heat dissipation, for superior consistency and bulletproof reliability.
Advanced Output Stages increase switching speed.
Power Factor Correction, allowing max power to safely be drawn from the wall, with far less added noise.
Real-time short-circuit protection with instantaneous reaction.
Durable dual-sided, military-spec (FR4-rated) glass-epoxy circuit boards, feature plated through-holes.
Ultra-rigid amplifier panels provide revolutionary heatsinking and mechanical rigidity, in addition to improved isolation and lower noise.
Exclusive processing includes:
Adaptive PWM (Pulse Width Modulation) smooths supply variations, ensuring instantaneous reactions and lifelong reliability.
Paradigm's proprietary Digital Signal Processing constantly monitors line current and voltage, regulating long-term average power output.
Anthem Room Correction (ARC) Technology is built-in to the pre-amp section (select models), for easy and instant low-frequency optimization in any room.
The amplifier is the beating heart of the powered loudspeaker. Paradigm amplifiers are integrated into their designs from the beginning, ensuring the most power for the best performance.