Technology & Design: Amplifiers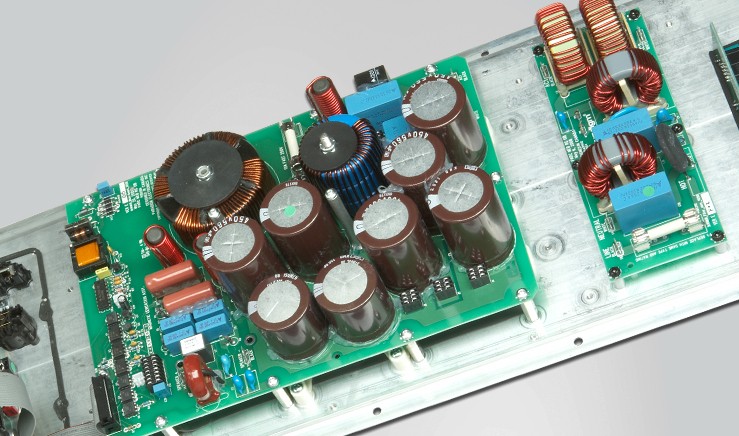 Patented high-power, high-current designs with oversized power supplies and massive heatsinks ensure full power delivery at all times.
Precision components and dual-sided, military-spec (FR4-rated) glass-epoxy circuit boards with plated through-holes ensure superior performance and reliability.
Virtually all Paradigm amplifiers benefit from our own Digital Signal Processing Design which monitors the line current and voltage, regulating long-term average power output power. But there's more ...
Sophisticated mathematical algorithms "shape" frequency response, ensuring accurate, consistent and musical bass without distortion, even when the subwoofers are playing at the loudest level.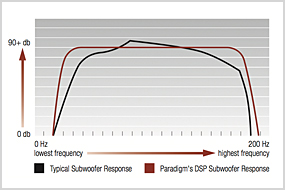 Paradigm's own Digital Signal Processing Design
Reflecting our cost-no-object approach to design in our Reference series, state-of-the-art technology and design includes such features as:
Ultra-Class D designs including a unique dual design on selected models
A comprehensive heat dissipation system
Power Factor Correction, allowing maximum power to be drawn from the wall, with far less noise
Switching power supplies
No power transformers or super compact transformers with ETD cores for applications requiring high power in a smaller form factor!
Advanced Output Stages to increase switching speed and efficiency
Pulse Width Modulation Power Processors
Opto-coupled inputs for better isolation and lower noise
Short-circuit protection with truly superb reaction times
Ultra-rigid amplifier panels provide revolutionary heatsinking and mechanical rigidity, in addition to improved isolation and lower noise.