Paradigm®
Rome Wasn't Built in A Day. Neither Was Monitor.

It took three emperors and 15 years to build Rome's colosseum, architecture that still elicits awe centuries later. And while we're not so bold as to compare the colosseum to the new Series 7, you have to admit the speakers look more than a little awesome in the backdrop of Ancient Rome. Good architecture will stand up well over time, as will good sonic architecture. Our Monitor Series 7 is a classic example. Now in its seventh iteration, each new generation is an opportunity for refinement: design innovations from our higher-priced reference lineups, reference-quality component parts, cabinets and even finishes! When it comes to getting value for your money, it doesn't get better than Monitor Series 7. Since its inception, the Monitor Series has been a favorite of audiophiles on a budget — with Series 7, that hasn't changed.

We can't promise it will still be around in two thousand years, but we can promise it will play louder, plumb deeper, look smarter and sound better than any other brand in its price range.
---
The Building Blocks: Monitor Drivers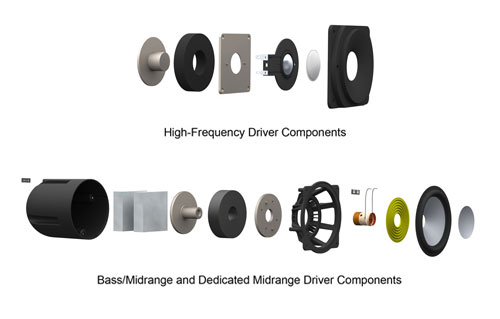 Advanced S-Pal™ Satin-Anodized Pure-Aluminum Bass/Midrange Cones. First seen in our Paradigm Reference lineup, very high stiffness-to-mass ratio and outstanding internal damping. The result? Remarkable midrange clarity, superb extended bass response and freedom from unwanted resonances and distortions. In an affordable audio category – unbelieveable quality!

Advanced S-Pal™ Satin-Anodized Pure-Aluminum Domes with powerful neodymium magnets and ferro-fluid cooling for increased power handling! Highs are more soaring and spacious, crystal clear and undiluted even at the higher bandwidths.

Wire Mesh Tweeter Guard and WaveGuide™. More Reference technology, ensuring a smooth, wide panorama of audiophile-quality sound. Wire mesh protection for the pure-aluminum tweeter.

Sophisticated crossovers in an affordable audiophile product! Again, it's almost unheard of: polypropylene film or bipolar electrolytic capacitors, air core and laminated core inductors, high-power resistors. Crossover topologies are first and second-order with corresponding acoustic slopes of second and third-order providing optimal bandwidth and seamless integration as drivers cross over.

Long-Travel Motor/Magnet Structures. Despite fewer drivers than in previous series', floorstanding and center channel speakers actually plumb deeper. This is, in part, attributable to the advanced motor/magnet structures: high-temperature copper or aluminum wire voice coils (varies by model) wound on Kapton formers, oversized magnets with all components FEA-optimized.

Foam-Rubber Elastomer Surrounds. Reference Studio Series geometry!
Help achieve that play loud AND play deep effect by allowing longer, expertly controlled cone travel.
---
Gladiators of Surround Technology

HIGH-PERFORMANCE LOW-PROFILE BI-DIRECTIONAL DESIGN
Will appeal to the audiophile eager for an affordable high-end 5.1 music and home theater experience that includes Paradigm's sought-after "surrounded-by-sound" experience in a dedicated high--performance surround speaker of compact dimensions.
The low-profile is application-friendly: perfectly suited for today's multi-purpose listening spaces.
In recording studios, discrete multichannel mixing is the order of the day. Bi-directional in nature, the new coherent surround technology reproduces the surround experience exactly as the sound engineers envisioned. The speakers add size and dimension to the soundstage while enveloping you in non-localized sound.
The bidirectional technology also ensures extreme placement flexibility! It is more forgiving in areas where room dimensions, characteristics and/or room configuration (or all of these!) may not be optimal for a music and home theater setup. In multi-use rooms where traditional surround speaker placement is neither possible or practical, Monitor Surrounds should be your first response.
We call them surrounds, but of course, they're also ideal as rear speakers in a 7.1 setup.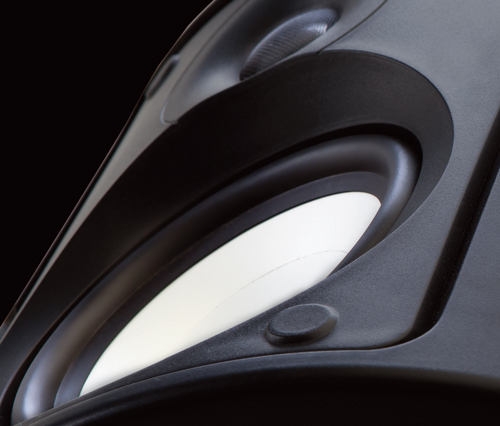 SPECIFICATIONS
Design
4-driver, 2-way bi-directional surround/rear
Crossover
2nd-order electro-acoustic at 2.0 kHz
High-Frequency Drivers
Two 25-mm (1 in) S-PAL™ tweeter domes
Bass / Midrange Drivers
Two 110-mm (4-1/2 in) mineral-filled
polypropylene cones, 25-mm (1 in)
voice-coils, oversize ceramic /ferrite
magnets, steel chassis
Low-Frequency Extension*
71 Hz (DIN)
Frequency Response:

±2 dB from 120 Hz - 20 kHz
(bi-directional soundfield)
Sensitivity - Room / Anechoic
88 dB / 85 dB
Suitable Amplifier Power Range
15 - 100 watts
Maximum Input Power†
80 watts
Impedance
Compatible with 8 ohms
Height, Width, Depth
21.7 cm x 23.5 cm x 13.0 cm
8-1/2 in x 9-1/4 in x 5-1/8 in
Weight (unpacked)
3.28 kg / 7.25 lb each
Finishes
Black
* DIN 45 500. Indicates -3 dB in a typical listening room.

† With typical program source, provided the amplifier clips
no more than 10% of the time.

No reviews available at this time.
This product works with
Other Models In This Series
N/A