Reference SUB 12 and SUB 15

Small Form Factor: BIG POWER!

"… fantastic … rich and nuanced … perfect voice for music … more than enough power for movies …
throw in the Perfect Bass Kit and quite frankly one of the best 12-inch subs I've heard in its class is
elevated into another category altogether."
– Dennis Burger, Home Entertainment on SUB 12
---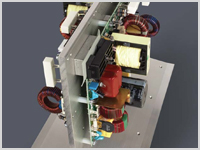 THE FAR-OUT STUFF: Big subs are no longer de rigueur! Today's audiophile wants MORE power, but LESS package. Paradigm's response? Meet the need, then over the top with design! For instance …
A unique dual amp configuration (2 amps – 1 cabinet!) optimized to completely control the operation of the bass driver: 3,400 watts Dynamic Peak, 1,700 watts (850 watts per amp) RMS Sustained power. More power + less package!
Less Heat, More Power, No Noise!
It's one thing to house all that power, it's another to harness it and keep things cool. But harness it we did! The 'T-shape' high-grade aluminum extrusion was optimized to wick heat away from the dual amps. See diagram, below right, shown without amplifiers to illustrate the extent of the design effectiveness! As we said, less heat, more power, no noise!
SUB 12 and SUB 15 play Lower, Louder and with Less Distortion than any other subs in their price range and still cost less!

For more detailed information on all the far-out SUB 12 and Sub 15 stuff, click here to download the Data Sheet.