Reference Seismic 110: Alpha dog of compact industrial design subwoofers!

Design innovation for maximum performance from a minimal footprint! A true collaboration between industrial, mechanical, electronic and acoustic design.

"Despite its adorable good looks, the Seismic 110 boasts one bodacious bark and just as big a bite."
– Dennis Burger, Home Entertainment
---
A COMPLETELY CUSTOM BUILD, DEMONSTRATING HOW GOOD IT GETS WHEN FORM TRULY FOLLOWS FUNCTION! Unlike many subwoofers on the market, Seismic™ 110 has no off-the-shelf parts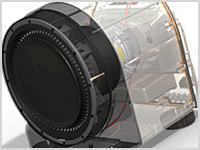 Within the interior of the Seismic 110's cabinet, components and amplifier are purpose-designed and appointed to ensure the highest power and greatest level of reliability as well as stability from the smallest possible physical envelope.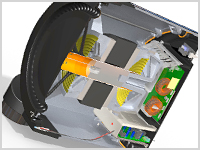 Ultra-low distortion split voice-coil design with an extremely long winding width allows for an incredible two inches of linear excursion with vanishing low levels of distortion. Shallow die-cast driver basket and two-piece flattened cone construction contribute to the compact footprint.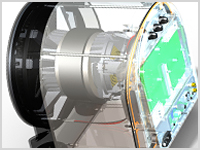 The fully integrated heat-dissipating Ultra-Class D™ amplifier follows the shape of the cabinet maintaining the overall low profile. The amplifier is mounted directly to the amplifier plate to provide both EMI and shock protection. Preamp cover eliminates any possibility of air leaks.
For more detailed information on all the far-out Seismic 110 stuff, click here to download the Data Sheet.