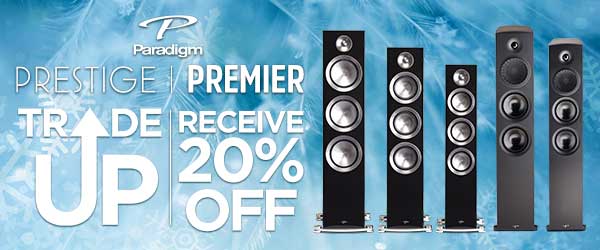 Trade UP to the Paradigm Difference this Holiday Season
Take advantage of this Special Edition of the Paradigm Trade-UP offer. 
---
If you've been waiting for an opportunity to experience performance audio from Paradigm, the time is now. 
For a very limited time, Trade UP any brand of old speakers for 20%-off Premier OR Prestige Series speakers. 
Prestige Series: When was the last time you heard music performed live? Live music is the ne plus ultra entertainment experience, and Prestige brings it home to you.

Premier Series: You've been thinking about it for a while, and now is the time to take that next step. Step up from mass-market audio to a superior sound experience, with the new Premier Series of affordable high-performance loudspeakers.

This kind of opportunity does not come along often. So act today, and take an unprecedented 20%-off Premier AND Prestige Series loudspeakers, only during this limited-time Trade UP offer. 

This special offer covers all Paradigm Premier and Prestige Series models. 



Promotion Details
Simply fill out the information below and we will email you a special coupon code good for 20%-off Premier or Prestige Series speakers. Bring the coupon code and your old speakers (any brand!) to a participating Paradigm dealer and you'll get a minimum* of 20%-OFF your new Paradigm Premier or Prestige speaker purchase.
* Minimum direct-from-Paradigm discount is 20% with qualifying trade-in. Depending on model, age, and condition of your old speakers, the dealer may, at their discretion, offer an additional discount toward your purchase. Offer is valid only in US & Canada, but time is limited. This offer is good only Novemer 1, 2019, to December 31, 2019. This special offer covers Paradigm Premier and Prestige models.