Paradigm®
When size and sound matter

While it's true, there are tiny satellite speakers aided by small subwoofers that can be "hidden" in many living spaces, when it comes to great audiophile sound these systems had never delivered … until Cinema. For years now, our award-winning Cinema speakers have been delivering a seamless music and home theater soundstage that brings movies to life and makes music sound "live." Now there is a stand-alone Cinema Sub available to deliver those deeper, dynamic special effects … purpose-built with high SPL's to support the lower octaves. But that's not all! Cinema Sub is musical, offers excellent pitch definition, terrific transient response without sacrificing slam and impact. In the case of this little compact subwoofer, you get it all and rumour has it that sound may be even better than the movie.
---
Superior 8˝ High-Excursion Driver made of a durable reinforced polymer composite that in concert with the superior suspension system and motor/magnet structure allow the cone to travel farther while maintaining effective control.

Built-In High-Current, Discrete Output Amplifier: 300 watts Dynamic Peak / 100 watts RMS Sustained.


Dual Ported Design for even and articulate response.

Amplifier Controls:
Auto On / Standby / Soft Clipping
Subwoofer Cut-Off Frequency
Sub / Sat Phase Switch – 0° or 180°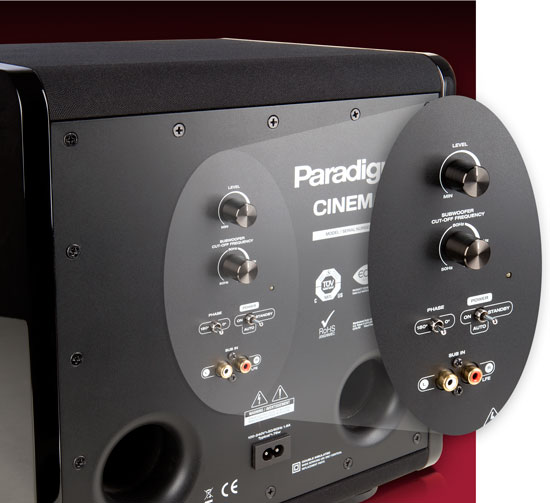 Inputs:

Two aesthetic placement options … gloss side up or cloth side up. Includes four easy-to-install feet.
SPECIFICATIONS
Design
Single driver, bass reflex, high-velocity
low-turbulence resitive ports,
built-in amplifier, flexible positioning:
gloss side up or cloth side up with feet
Amplifier High-Current
Discrete Output
300 watts Dynamic Peak
100 watts RMS Sustained
Amplifier Features
Auto-on; standby; soft clipping
Bass Driver
210-mm (8 in) high-excursion
reinforced co-polymer
Low-Frequency Extension*
32 Hz (DIN)
Subwoofer Cut-Off Frequency
Variable 35 Hz – 150 Hz;
bypass option
Sub / Sat Phase Switch
Variable 0° or 180°
Line-Level Input
Two RCA (L/R-Mono) for L/R lineout
or Sub-Out/LFE-Out of receiver/processor
or other line-level source
Line-Level Input Impedance
10k ohms

Height, Width, Depth
(gloss side up, height is with feet)

34.2 cm x 32.2 cm x 32.2 cm;
13-7/16 in x 12-11/6 in x 12-11/16 in
Weight (unpacked)
9.7 kg / 21.4 lb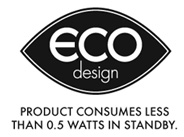 *DIN 45 500 Indicates –3 dB in a typical listening room.
†With typical program source providing the amplifiers clips no more than 10% of the time.

No reviews available at this time.
This product works with
Other Models In This Series
N/A